Valor® Vertical Shaft Impactor (VSI)
Produce Uniform, Road-Building Material
Compared to compression crushers (jaws and cones), impact crushers – like the Valor Vertical Shaft Impactor (VSI) – process a wider range of material at higher tonnages and allow for more customization of rock shape and size.
Our Valor VSI offers significant application flexibility because of options like adjustable chamber configurations and several unique rotor options. Investments are backed by an industry-leading 2-year or 6,000-hour warranty.
Applications:
02.
Feed Tube Adjustment
Allows operators to externally adjust the feed tube for production control without opening the crusher.
03.
Air Transfer System
Available on all models, the design reduces harmful dust emissions during operation.
04.
Vantage® Automation
Designed and supported in-house, automation allows precise control, warns of harmful conditions, and improves efficiencies.
How Does A VSI Work?
During operation, feed material contacts the VSI's rotor which rapidly launches it against stationary anvils. This collision causes the rock to break along its natural fault lines.
VSI's are typically positioned after primary or secondary crushers and consistently produce cube-shaped material, including Superpave, which is often required by most modern contractors.
Local Stock. Local Support. Local Experts!
Impact Crushers
benefits of impact crushing
When utilized correctly, impact crushers are absolute rockstars! They produce some of the highest value, highest quality material in the aggregates industry.
Video
Animated overview of VSI crusher features.
VSI Chamber
Configurations
ROCK ON ROCK
Enclosed rotor and rock shelf
High abrasion applications (i.e. Quartz)
Interchange top and bottom rotor parts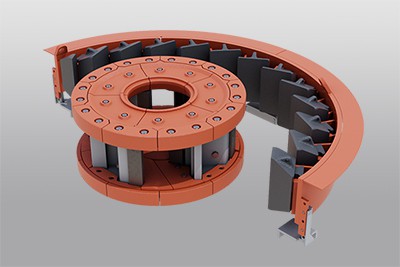 ROCK ON STEEL
Fabricated rotor and anvil ring
Medium abrasion materials (i.e. Granite)
Designed with fewest parts possible
STEEL ON STEEL
Open shoes and anvil ring
Low abrasion materials (i.e. Limestone)
4, 5 and 6 shoes available
Models
Compare Valor VSI's
Have questions? Need a quote? Complete the form below and we will follow up shortly.
Request More Info

|

Valor Vertical Shaft Impactor (VSI)

See our privacy policy.