staging
Superior Industries
A Superior Industries no Brasil fornece componentes de correias transportadoras para algumas das maiores operações de mineração com as maiores produções do planeta. Além disso, nossa equipe pode construir ou localizar equipamentos de transporte, como empilhadeiras radiais telescópicas, terrestres e rastreadores de gafanhotos, por meio da sede da empresa nos Estados Unidos.
ROCK FACE TO LOAD OUT®
Anteriormente conhecida como Parcan Group, a Superior Industries adquiriu a fabricante brasileira de engrenagens intermediárias e polias para correias transportadoras em 2015.

Desde então, tem feito grandes esforços para modernizar as instalações da empresa, mantendo sua capacidade única de projetar rapidamente polias e rolos personalizados.


Consulte um especialista
Superior tem a reputação de ser um especialista em soluções técnicas na América do Sul. Por solicitação do cliente, equipes da empresa são enviadas às minas para inspeções e avaliações, muitas vezes propondo ideias para estender a vida útil dos investimentos em transportadores. Visitas a minas no local são essenciais para que nossa equipe técnica avalie produtos, reexamine cálculos e desenvolva produtos aprimorados a partir dos dados aprendidos.
staging
Superior Industries
From Rock Face to Load Out®, Superior Industries designs and manufactures crushing, screening, washing and conveying solutions to support the world's dry bulk producers.
Rock Face to Load Out
Born and raised in the rural Midwest, privately-owned Superior Industries is supported by some of the hardest working people on the planet.

Together, we are building an American manufacturing company that creatively solves problems, eagerly serves customers, and pursues the lowest cost per ton. We're motivated by new opportunities for our employees, distributors, vendors, communities, and most importantly…you!


Hoover Materials New Plant Near Nashville, Tennessee, USA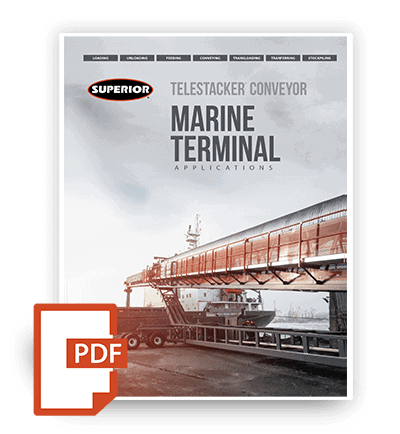 ship loading
big on mobility
It's a multi-functional portable conveyor that loads, unloads and stockpiles at deep water and inland waterways.

See our new comprehensive guide of features, specifications, and applications for TeleStacker Conveyors in marine applications.
Who is Superior?
Superior has grown into one of the world's leading manufacturers of bulk material processing and handling equipment and the largest dry bulk conveyor builder in the world! All along, the vision of Superior is simple: serve our customers with integrity and provide opportunities for employees.
Service & Parts
We always have been and always will be a privately-owned company. That means we can add more employees to our customer service team without Wall Street breathing down our neck. Isn't that the way it should be?
dealer support
They're the same neighbors you'd trust to babysit your dog on the weekend. Our factory-trained dealers are a local connection for sales, service and parts.
phone support
Staffed by agents born to serve others, you're welcome to call our technical service team 24/7/365. (If you call in the middle of the night, we can't guarantee they're in uniform!)
replacement parts
You know the old saying…"square pegs don't fit in round holes?" It's often the case with knock-off parts. Genuine Superior parts are forged from the same steel as our equipment